A Message from the President
Tourism is an extremely important industry to the economic wellbeing of Shreveport-Bossier and nothing has underscored that more than COVID-19. More than 10,000 local, hardworking men and women and hundreds of tourism-related employers have seen drastic reductions and/or closures.

National Travel and Tourism Week, May 3-9, is the week set aside by the U.S. Travel Association to honor and acknowledge the impact tourism has on local economies. But this year, things are different. We are arranging for our Shreveport-Bossier Comeback and preparing to open our doors and welcome visitors safely when the time is right.

Although the governor's mandates are vital to public safety, I cannot ignore the strain that our hotels, casinos, restaurants, and attractions are enduring during these unprecedented times. As an avid supporter of local establishments, I am proud to witness our industry battle this global pandemic head-on with incredibly inventive grit.

The domestic and international tourism economic impact to Caddo and Bossier Parishes combined is about $761 million, according to a report entitled Tourism Spending in Louisiana 2018 published by the Louisiana Office of Tourism.

The impact that this virus has on our community will be felt for months and years to come, but I can't help but feel optimistic. We foresee a robust comeback for our community, especially since Shreveport-Bossier has a reputation of being a premier destination in the Ark-La-Tex region. Although we can't meet in person, we can stay connected, unified and supportive of one another from afar while rallying around Shreveport-Bossier's hotels, casinos, restaurants, and attractions.

To ensure our hospitality workers are able to meet the future work demands without the looming financial worries that many who have been furloughed or laid off have endured, we have partnered with United Way of Northwest Louisiana to establish an emergency response fund specifically for the Shreveport-Bossier hospitality industry. Tourism employees can apply here for the funds to pay bills and offset other financial hardships caused by COVID-19.

Those interested in donating to this fund may do so here. Together, our resilient industry is poised for a united Shreveport-Bossier Comeback. I am very proud of the community that I serve, and I understand the unsettling days in which we currently exist. Despite the radical changes to our routines, I will continue to champion our local tourism industry and dedicate my passions to developing a sturdy Shreveport-Bossier comeback. So, when travelers are ready to get a good taste and feel of our sister cities, we can safely welcome them back.
Sincerely,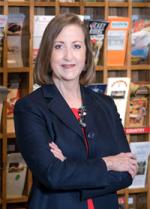 Stacy Brown, CDME
President
Shreveport-Bossier Convention and Tourist Bureau